"
Treasure in the Depths
" was a 
job
 in 
Tide of Terror
 of 
Sly Cooper and the Thievius Raccoonus
.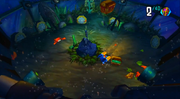 Walkthrough
Edit
Control the sub with  and shoot with . It is possible to shoot in one direction while moving in another.
Treasure chests will fall from above the level. Shoot at them as they land on the ground. There are not many tips for this level except to just shoot the treasure chests before they are taken away by the crabs. The crabs can be defeated with a single shot, and they can be shot up to the point when they are just entering their tubes.
Break 40 treasure chests to beat the level.