"
The Gunboat Graveyard
" was a 
job
 in 
Tide of Terror
 of 
Sly Cooper and the Thievius Raccoonus
.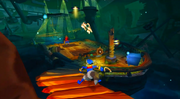 Walkthrough
Edit
Once you enter this area, smash the safe on the right to collect the clues. Take out the shuriken walrus, then hop across several floating objects to get onto the other half of the ruined ship. Take out the belly walrus and smash the alarm. Then climb up the ropes of the crow's nest to get onto the wing of a plane. Walk forward to smash the alarm and then go back to grab the two clues. Continue moving forward and sneak around the ledge. Keep running across the plane wings and take out another shuriken walrus. Hop onto the chain that stretches over the squid guard and then take him out as you wish or just keep shimmying across the chain to the next squid guard. Take him out once his back is turned and then collect the clues.
There are more debris in the water you will have to cross. Carefully jump on each object and collect the clues and coins. Once you get onto the wrecked ship, collect a few more clues and take out two more walruses. Then climb up the first rope to get to the vault, then open it. Then climb up the second rope to get the treasure key.