"
The Fire Down Below
" was a 
job
 in 
Tide of Terror
 of 
Sly Cooper and the Thievius Raccoonus
.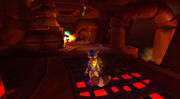 Walkthrough
Edit
Once you jump down into the area, head to your back left to find a clue bottle safe. Now head forward, but avoid the flaming furnaces and collect the clues hanging from the ceiling. Keep pressing on to find more clues hiding behind the batches of coal. There you will also find a machine wheel, which you can use to move the hooks towards Sly. Hop on a hook and make your way over to the other platform to trigger the signal repeater, then lay the smack down on the walrus guard. Collect the clue bottle and the climb up the pipe and scale the upper portion of the room to get to the tube with the furnaces. Jump onto the small platforms to collect the clues.
Continue on and remember shut the flaming furnaces. Keep going and collect any clues you see. You will then come across another machine wheel. Run on the wheel to move the conveyor belt. On the belt is a large block of coal that will break open the glass when done successfully. Head inside, walk up the belt and collect the hanging clues. After collecting the clues, you can go back to crack the vault or just grab the treasure key and then re-enter to crack the vault.