"
Rapid Fire Assault
" was a 
job
 in 
Fire in the Sky
 of 
Sly Cooper and the Thievius Raccoonus
.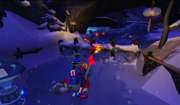 Walkthrough
Edit
In this mission, you take control of the same vehicle from Mz. Ruby's lair. Remember to hold  to move, and  to fire. As always, you can move in one direction while firing in another.
Shoot down the door blocking your way and ride down the path. You will approach some monkey guards popping out of a trapdoor. Shoot them, then ride into the firework production facility. Use as much force as possible to ride the conveyor belt through the room. This area is packed with more monkey guards, so prepare for some skillful shooting.
You will then exit the facility, you will be following a much wider path, blocked by ice barriers. Shoot through them to make your way to the treasure key. Once you reach the end, you will see the key on top of a totem pole. Shoot it down to get the key.