"
Into the Machine
" was a 
job
 in 
Tide of Terror
 of 
Sly Cooper and the Thievius Raccoonus
.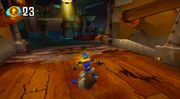 Walkthrough
Edit
#1: This one is found right at the start of this area, on top of the furnace door.
#2: Further ahead is a vertically moving platform. You will see the clue dangling from the bridge next to it.
#3: Make your way to the large beam that you will need sneak around. When you reach the top, continue sneaking all the way around the second ledge before leaping to the bridge to collect this clue.
#4: Leap onto the spinning cog and whack the clue dangling down from its place.
#5: You'll find this one resting against the yellow wheel up ahead, from the rotating pipe you can see from afar.
#6 - #14: In the furnace room, there are nine clue bottles that are either hanging up from the ceiling or are resting against the furnace doors here. Be careful not to fall down to the ground without collecting all of the ones on the furnaces! Alternatively, you can just jump on the furnace doors to make the clues fall to the ground.
#15 - #24: In the next furnace room, there are more bottles, and like before, be careful not to fall before grabbing the clues, and don't forget about the lone clue resting on top of the pipes at the end of the line of furnace doors. Also, you can again just jump on the furnace doors to make the clues fall.
#25 - #26: After the second furnace room, you should discover these two clues hanging to the left, next to a spinning wheel.
#27: Once you defeat the welding walrus, you will notice a bottle resting on a pipe, to your left.
#28: This time, head right, and once you have landed on a solid platform via the life-saver hook, you should see a clue hanging to the left.
#29 - #30: Down below is yet another mallet walrus. Next to him is the final small safe, containing two bottles.