"
Burning Rubber
" was a 
job
 in 
The Cold Heart of Hate
 of 
Sly Cooper and the Thievius Raccoonus
.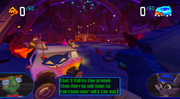 Walkthrough
Edit
This job is pretty simple. All you have to do is collect 60 computers before the Fire Slugs do. Press  to use the van's battering ram against the Fire Slugs. Once you collect all 60 computers, you compete the mission. Murray will drive the van up to the entrance to the next room.