"
Bentley Comes Through
" was a 
job
 in 
The Cold Heart of Hate
 of 
Sly Cooper and the Thievius Raccoonus
. It is the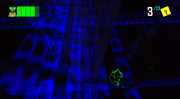 first and only job for 
Bentley
, and marks the introduction of 
hacking
 to the 
series
.  
Walkthrough
Edit
The goal here is to hack through four stages of Clockwerk's computer to shut down the gas in the room. To move, press , and to shoot, press . You will need to collect a total of 13 yellow security codes, which are each trapped in green data packets. Touching those packets does damage to Bentley, so be careful when shooting them open.
When you reach level 2, you will trigger one of Clockwerk's security algorithms. They shoot red blips that will do significant damage to Bentley if touched. You can shoot them out, or just avoid them. Watch the five bars of health in the top-left corner of the screen.
When you reach levels 3 and 4, try to clear out the data packets as much as possible before collecting the codes. Once you collect all 13 codes, the mission is complete.