"
A Ghastly Voyage
" was a 
job
 in 
Vicious Voodoo
 of 
Sly Cooper and the Thievius Raccoonus
.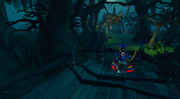 Walkthrough
Edit
In this mission, you will be controlling a swamp skiff. Hold  to move, and  to shoot. Like before, you can always shoot in one direction, while moving in another.
Move forward and to the right to get onto a large raft. Prepare for some quick shooting because the swamp is crawling with fire turtle guards and ghost rat guards. Remember to destroy the statues to clear them out. The fire turtles are behind barriers, which you will need to shoot through to take them out.
Once the raft reaches land, ride off and traverse the rest of the area. You will approach two large open areas full of breakables and some ghost statues. You will also need to blast your way through some barriers to get through.
After reaching the signal repeater, ride up the path and take out more ghost rats and barriers along the way. Take out the fire turtles ahead, then you will approach the final area with the treasure key. It is surrounded by ghost statues. You will need to carefully eliminate each statue one-by-one to free the key. Make sure you have plenty of health! After clearing out the ghosts, collect the treasure key and you're done here!