"
A Desperate Race
" was a 
job
 in 
Fire in the Sky
 of 
Sly Cooper and the Thievius Raccoonus
. It was the second of two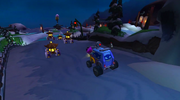 racing missions in the game.  
Walkthrough
Edit
Just like before, this is a straightforward race, so only tips can be given. Save up on the nitro-boosts, and use them on tight corners to keep your speed. The only difference is this time, you must avoid some slippery ice patches. Your opponents may steal nitro-boosts as well, but they won't use them. Shove your opponents out of the way to try to get in front of them. Once you win the race, you win the treasure key.