"
A Daring Rescue
" was a 
job
 in 
The Cold Heart of Hate
 of 
Sly Cooper and the Thievius Raccoonus
.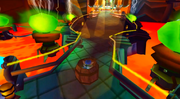 Walkthrough
Edit
Getting past this security requires some serious stealth. On the higher platform to the right is a barrel you can use to sneak past the security. First, go left and spire jump onto the point, then hop on the rail to get onto the small gear. Climb up and then spire jump on top of the lights and then jump onto the small ramp to let it down.
Head up to the higher platform, then sneak around the booby-trapped floor using the ledge, but of course, avoid the spotlight as well. Once on the other side, destroy the dart shooter, hop into the barrel, then head back down. Then carefully sneak past the spotlights and smash the alarm. You can also destroy the dart shooters if you'd like. Otherwise, head inside the room where Carmelita is to view the next cutscene, leading to the next mission.