"
Silence the Alarms
" was a 
job
 for 
Murray
 in 
The Black Chateau
of 
Sly 2: Band of Thieves
.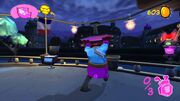 Walkthrough
Edit
Objective
Edit
Destroy three alarm horns around Dimitri's nightclub.  
How to Complete
Edit
As Murray, you will need to pick things up and throw them at the alarm horns. Grab nearby objects or guards and throw them at the nearby alarm horn. Beware though, once you hit the alarm horn once it will go off, summoning guards to your location until they are destroyed.
Once the first alarm has been smashed, get rid of any remaining guards before you continue your mission. Use your binocucom to find the two other alarms. When you approach the second alarm, Bentley will tell you that you can break out of your combat stance by holding down .
Make sure to remember that guards will be summoned once you hit each alarm horn once, and they will keep coming until that alarm horn is destroyed. Once the third alarm has been destroyed, the job is complete.