"
Moonlight Rendezvous
" was a 
job
 for 
Sly Cooper
 in 
The Black Chateau
 of 
Sly 2: Band of Thieves
.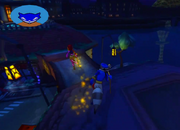 Walkthrough
Edit
Objective
Edit
Follow Neyla around town.
How to Complete
Edit
After the cutscene, Bentley will tell you to hold  to run in order to keep up with Neyla. Keep up with Neyla and don't fall behind. Follow the gold sparkles that are coming off of her to know where she is going. Don't worry about fighting enemies, as Neyla will take out any enemies on the way.
She will eventually lead you to the back door of Dimitri's nightclub. Job complete.